Tuesday Beer Tasting- OHB/Ivory Tower Bee Student Release! 5-7PMSaturday Special Saturday Wine Tasting- Everything Pinot Noir at the Courtyard 3-5PM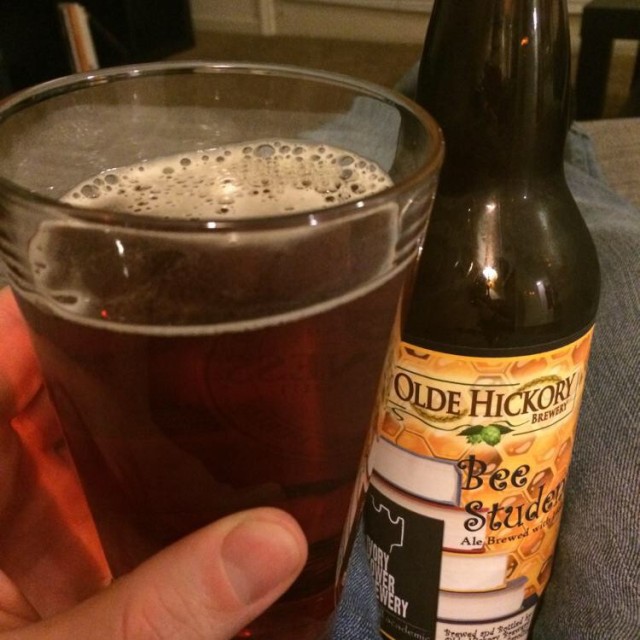 Another Go-Around for Our Students!
The Bee-Student  
Peabody's Wine and Beer Merchants
TIME: 5-7PM
DATE:  Tuesday, April 1st, 2014
More:  We kick off North Carolina Beer month with a very near and dear project.  After last year's inaugural brewing of the Bee Student by students and faculty of Ivory Tower at Olde Hickory the grand experiment makes it's second edition!  Last year's was a light, sessionable ale with a hint of honey (hence, the "Bee").  And with each vintage or installment of a series, the beer gets tweaked, reinvented or plain old improved upon.  Come by and taste the latest and greatest that maybe some of your friends and classmates have crafted.  Along with the Bee-Student there will be tastes of Olde Hickory's Imperial Stout and the Redeemer (Imperial IPA).  We are also filling growlers of these flavors so don't miss out!
We'll seeya!
NOTE: All tasted beers are discounted 10% the evening of the beer tasting.
Peabody's conducts the suds sampling every Tuesday.  
Everything Pinot Noir!
Peabody's Wine & Beer Merchants
DATE:  Saturday, April 5th, 2014
TIME:  3-5PM
LOCATION:  Courtyard by Marriott
COST:  Free
MORE:  Alright, kids, it's your Uncle Kevin with another challenge to the pallet.
Since we had such a great time at the Courtyard doing all Cabernet Sauvignon we are throwing another dive-bomb tasting and switching gears to the other varietal ruling the roost:  Pinot Noir.
9 times out of 10 people answer my question of "what are you drinking the most of these days?" with "oh, I like Cabernet and Pinot Noir."  Okay.  So we attempted to decipher the allure of Cab so now I'm curious why everyone is Pinot crazy…still.
With a fresh, crack team of professionals from the distributing industry we will present 20 different Pinot Noirs in all of their forms and glory from delicate roses to full blast California concentrate.
And with no further adieu, the list:
2012 Y3 Sonoma Coast Pinot Noir- $27.99
2012 Saintsbury Vincent Vin Gris (Rose of PN) $13.99
2011 Ritual Pinot Noir (Chilean PN made by Paul Hobbs) – $18.99
2011 Lange Pinot Noir- Willamette Valley, OR- $24.99
Ventisquero Pinot Noir Reserva, Casablanca Valley, Chile  $13.99
Andrew Rich Pinot Noir Prelude, Willamette Valley, OR  $26.99
Maude Pinot Noir, Central Otago, NZ  $33.49
DuMol Pinot Noir, Russian River  $86.99
2012 Mumbo Jumbo Pinot Noir (California) $21.99
2012Treasure Cellars (CA) $38.99
2012 Three County $24.99
2012  Oakridge Old Soul $16.99
2012 Joseph Drouhin Laforet (Burgundy) $20.99
2011 Manos Negras (Argentina) $16.99
2012 Hook & Ladder RRV Estate (CA) $26.49
2012 Elk Cove Willamette Valley (OR) $32.99
And last but hardly ever least, a special appearance by Ms. Destiny Dudley of Omero!  For those of you  who don't know Destiny, she cut her teeth in the business at Eric's Cheese and Wine and then left for a life of travel and back breaking work in the world of Pinot Noir from New Zealand back to the West Coast.  Now she calls Oregon home and the right hand of a small production, artisan producer called Omero.  It is a regular shelf item here at Peabody's and the quality over delivers!  Destiny presents the four tiers of single-vineyard Pinots and the intro level!